LOWELL, Mass., July 5, 2023 (SEND2PRESS NEWSWIRE) — The Lowell Chamber Orchestra has officially announced its fifth season, which will be comprised of seven concerts starting in September of this year, and running all the way until June of next year.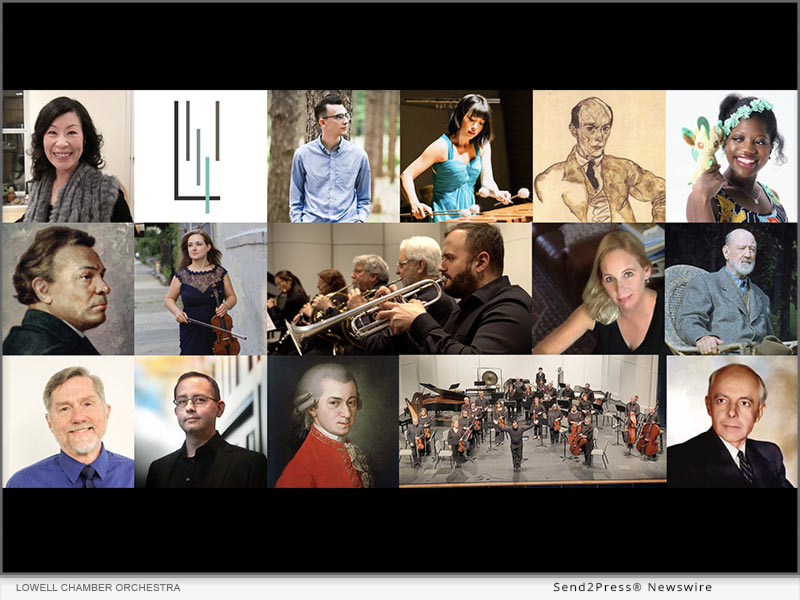 Image Caption: Lowell Chamber Orchestra announces fifth season.
This season will be the most ambitious yet in LCO's history in many ways – not only there will be more concerts than ever in one season, but also will feature more living composers, more soloists, will perform in new venues, will encompass some of the most challenging chamber orchestra repertoire, and will collaborate with not one, but two other musical groups.
Three women composers will be the center of the living composers' feature. All of them commissioned by the LCO for different projects – Brittney Benton and Yoko Nakatani, who were previously commissioned for LCO's "Lowell Threads" initiative, and currently Betsy Schramm, whose piece will be premiered in December. The other two living composers are the winners of the LCO's annual international call-for-scores: this year, two composers tied and agreed to share the prize – Cory Brodack and Martin Schreiner. Both of them were selected after an anonymous process of selection from over 180 scores.
Three soloists will be featured with the ensemble this season, two of them members of the orchestra itself. Principal chair trumpet player Adam Gallant will perform Persichetti's "The Hollow Men," and concertmaster Katharina Radlberger will perform Mozart's Concerto No. 3 in G major. The third soloist is the winner of LCO's International Concerto Competition, Taiwanese marimbist Nikki Huang, based currently in Canada. She will be featured in Séjourné's Concerto for marimba.
Each concert of the season is centered around an iconic work of the classical tradition, chosen for its historical importance. In September, audiences will hear Schönberg's First Chamber Symphony, which changed how the symphony was defined as a genre; In December, Charles Ives' Third Symphony, a Pulitzer Prize winning score, depicting a very traditional American gathering in the inimitable style of Ives; In February, Bartók's mesmerizing "Music for String Instruments, Percussion and Celesta," made famous in Kubrik's film "The Shining." Finally, May culminates the season with the monumental Requiem by Wolfgang Amadeus Mozart, through a first time collaboration with Boston Cecilia, and its music director, Michael Barret, who will conduct one of its two performances.
"This is a celebratory year for us." says LCO's Music Director Orlando Cela. "We managed to remain active and relatively unscathed during the pandemic, and now in our fifth year, we are looking to share much more with our audiences."
As usual, the concerts are free to the public, although donations are requested from those who can afford them – LCO is committed to demolish the socio-economic barriers to classical music by providing the best professional grade classical music concerts without an onerous financial burden.
Visit http://lowellchamberorchestra.org/events to find out the details of the next season.
MEDIA ONLY CONTACT:
Antonio Mak
Lowell Chamber Orchestra 
EMAIL: admin@lowelchamberorchestra.org | PHONE: 781-583-6160
News Source: Lowell Chamber Orchestra