TINLEY PARK, Ill., Aug. 18, 2023 (SEND2PRESS NEWSWIRE) — In a world reeling from a global pandemic, dreams dashed and businesses struggling to survive, Martha Razo, a mathematician, entrepreneur, and philanthropist, felt the call to reach out, to act, to transform. This conviction has culminated in the announcement of the Xcelerator Business Summit, a groundbreaking platform designed for entrepreneurs, CEOs, and innovators, a place where success is not just a dream but a shared goal, scheduled for August 31 to September 1, 2023, at the Tinley Park Convention Center.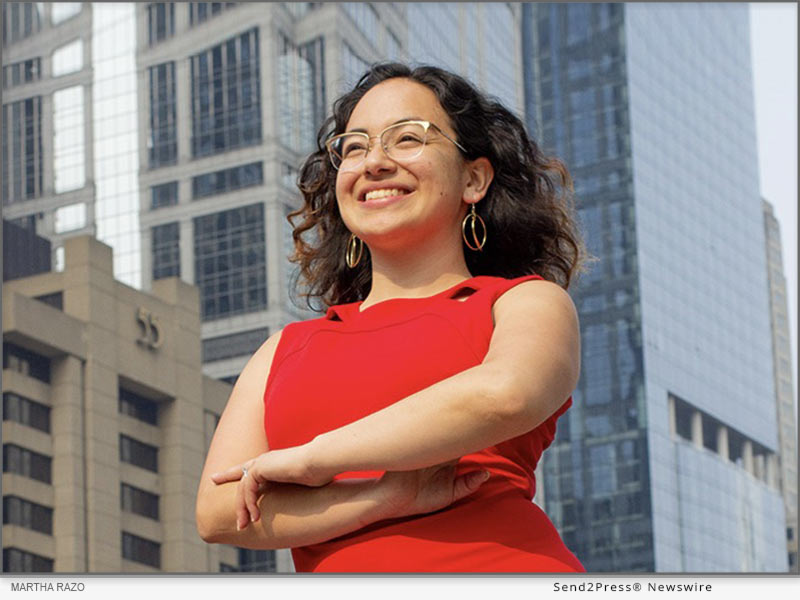 Photo Caption: Martha Razo.
With a heart filled with empathy and a mind sharpened by mathematical prowess, Martha saw beyond her own flourishing businesses. The news of closures and layoffs was more than just headlines to her; it was a call to action. Utilizing her expertise in data-driven decisions, Martha embarked on a one-on-one consulting mission to guide others towards success. But she didn't stop there. The Xcelerator Business Summit is her ambitious response to a troubled economy, an innovative platform where business minds can connect, share, and inspire. It's not merely a gathering, but a nurturing space for ideas, knowledge, and business insights, reflecting Martha's vision of success as a journey best traveled together.
One of the highlights of the Xcelerator Business Summit 2023 is the exceptional lineup of speakers who bring with them a wealth of knowledge and expertise. Among them is Tsi-tsi-ki Felix, a multi-award-winning journalist, National TV Host, and esteemed TEDx Speaker known for her insights into media and communication. Joining her will be Blanca Sepulveda, a financial expert and the visionary founder of Transformation Financial.
Also gracing the stage will be Dr. Sanjiv Chopra, MD, the brother of Deepak Chopra and a distinguished Harvard Professor of Medicine, who will captivate attendees as the keynote speaker on leadership and health. Venture capitalist and business coach Bill Walsh will also share his wisdom on becoming a public speaker, leveraging years of entrepreneurial experience. With a diverse array of luminaries, the summit is poised to inspire and guide attendees on their paths to business success. With the best EMCEE in the Chicagoland area, Dr. Loren Michaels.
Lead Panelist: Lucero Mateos, Ainhoa García, and DeVon Chandler
The following are Xcelerator Business Summit speakers:
James Watson
Celia Colon
Kimberle Smith Austin
Lori A. McNeil
Mansi Shah,
Jasmine Willois
Noeli Serna
Alicia La Hoz
Stephen Matley
Jon Block
Toccara Nicole
Marie Antonette Waite
Blanca Sepulveda
Leonor Gil
Jennifer Sanchez
Lizeth Quintana-Romero
Rubi Velazquez
Luz Villa
Kimberly Montesinos
Paola Meinzer
Margarita Morelos
Fallon M. Flowers
Tilsa Damary Fernandez
Randy Barcella
Gabriela Reyna
Farrah Ali
Gina Diaz
Tia Juarez
Michael Rannigan
For those struggling with the intricacies of entrepreneurship, Martha identifies a vital problem: "There are four pillars of business: marketing, sales, operation, and finances. And if these pillars are not aligned, then your business will not be successful long term." Her goal with the Xcelerator Business Summit is to create a strong foundation for business owners and connect them with the right people to "fill in the gaps."
Martha Razo's credentials are a testament to her abilities. She holds both a Bachelor's and a Master's degree from the Illinois Institute of Technology in Applied Mathematics and is pursuing a Ph.D. in Industrial Engineering at the University of Illinois at Chicago. But her education is just the tip of the iceberg. Martha is also the CEO of Guero's Pallets and co-founder of Solix Services, with a decade of diverse business experience, stretching across restaurants, properties, manufacturing, and more. From being an 8-figure business owner to being featured in NBC news, and authoring her book 'Business Diva,' Martha's expertise permeates her every endeavor.
The Xcelerator Business Summit 2023 is not just another business event; it's a guide for anyone looking to take their business to new heights. "You don't have to know it all," Martha insists, "But at least this summit will connect you to the experts who know what they're doing." There is going to be an expo where people can just walk around and talk to people one on one and explore different services for their business, master mind workshops, one on one coaching, book signings, and a Gala.
With an inviting and innovative spirit, Martha Razo's initiative promises to be a transformative experience, especially for those who feel the odds are stacked against them. Her advice resonates with a profound simplicity: "Come to the summit, network with the right people, accept what you do not know, and fill in their gaps!"
In a time when failure looms large, Martha Razo's Xcelerator Business Summit shines as a beacon of hope and success. It's an opportunity to learn, connect, and thrive. It's Martha's way of changing the world, one business at a time.
For more details on the Xcelerator Business Summit, please visit Martha's website:
Agenda and speaker lineup (PDF):
https://www.martharazo.com/_files/ugd/93e1d7_46b279afc4e849739d3f10a5762a4156.pdf
###
MEDIA ONLY CONTACT:
(not for print or online)
Martha Razo
mrazo202@gmail.com
312-523-5561
News Source: Martha Razo