RIO RANCHO, N.M., Oct. 11, 2023 (SEND2PRESS NEWSWIRE) — Master Sommelier Tim Gaiser has released an updated version of "Message in the Bottle: A Guide to Tasting Wine" (ISBN: 978-1955750479). The book is a valuable resource for professional tasters, as well as an outstanding guide for the casual enthusiast who wants to learn more about how to appreciate a glass of wine.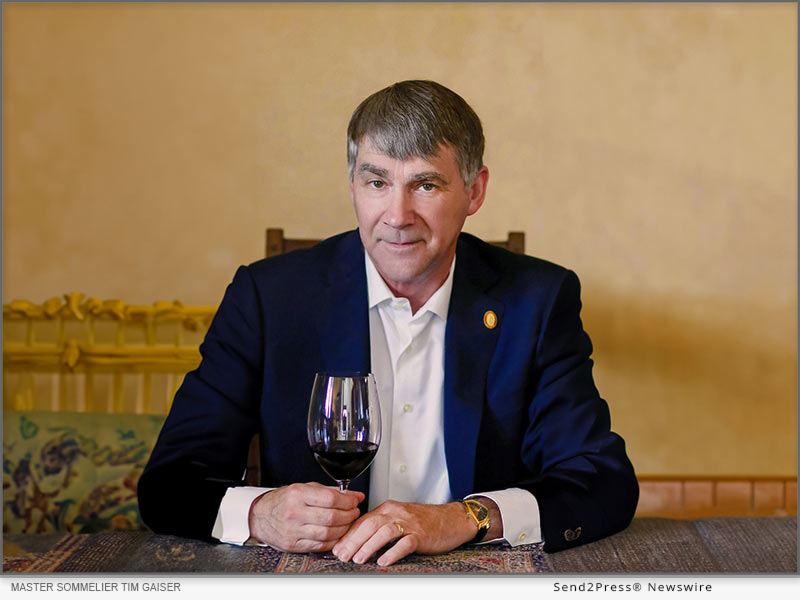 Image Caption: Master Sommelier Tim Gaiser.
"Message in the Bottle" is a compilation of Gaiser's 30-plus years of international wine-tasting and teaching experience. After working on the text for over ten years, Gaiser finally had the opportunity to put the manuscript together during the 2020 COVID pandemic. On release, the wine-tasting guide quickly surged to the top rankings on Amazon.
"The original intent was to write something for 'Jedi Knights in training,' as a colleague calls students in the wine certification programs," Gaiser says. "However, a dear friend and fellow Master Sommelier colleague pointed out that once the book was released, consumers just getting into wine would also be interested it. I realized that I needed to make the text as user-friendly as possible."
With that, Gaiser went back to the drawing board and rewrote all the chapters to include introductions and recommendations on how to use the information. The result is a comprehensive resource for the serious wine student, as well as a clear-cut guide for anyone who wants to learn the secrets of tasting wine.
As Emily Wines, Master Sommelier and Vice Chair of the Board of Directors for the Court of Master
Sommeliers, Americas, states "For all of those who've struggled with the art and technique of blind tasting, this is the ultimate guide."
Peter Marks, Master of Wine, agrees, stating "'Message in the Bottle' should be another standard in anyone's wine library along with 'The Oxford Companion to Wine' and 'The World Atlas of Wine.'"
A Decanter Magazine review states that, "This Guide to Tasting Wine compiles strategies and insights gained over more than 30 years of teaching and working as a sommelier. While many sections are aimed at helping sommeliers pass the tough MS exam, there are useful tools for wine novices through to those wanting to brush up on blind tasting skills."
Somm Journal publisher, Meredith May, wrote, "Applying his three decades of experience in tasting, teaching, and writing, Gaiser divides and conquers concepts both objective and subjective. For those prepping for exams, Message in the Bottle may be one of the most valuable tomes in your arsenal."
Beyond requisite skills, the "Message in the Bottle" includes an entire section on strategies for improving focus, concentration, and smell and taste memory—all using visualization. It also features a list of suggested producers for tasting practice, instructions for writing tasting notes and wine tech sheets, and a series of essays on wine, making it not only the go-to reference for aspiring sommeliers and wine professionals, but an enjoyable read about one of life's greatest, most enduring pleasures.
"Message in the Bottle: A Guide to Tasting Wine" was published by Networlding Publishing in December 2022 and is available in both eBook and paperback formats from major distributors.
For more information, images, interviews, or review copies please contact tgaiser@earthlink.net.
About Tim Gaiser, MS:
Tim Gaiser is an internationally renowned wine expert and lecturer. He is one of less than 300 individuals worldwide to ever attain the elite Master Sommelier title. He is the former Director of Education and Education chair for the Court of Master Sommeliers, Americas, and an instructor for the Napa Valley Wine Academy.
Over his 30-plus year career, Tim has taught thousands of students in wines and spirits classes at every level as well as developing wine education programs for restaurants, winery schools and wine distributors. He has experience in all phases of the wine industry: online, wholesale, retail, winery, and restaurants.
Tim has written for several publications including Fine Cooking Magazine and the Somm Journal and also writes for numerous wine and spirits clients. He has served as the author and lead judge for the Best Young Sommelier Competition and the Top Somm Competition.
Prior to developing his wine expertise, Tim received an M.A. in Classical Music. He played classical trumpet as a freelance professional and as an extra with the San Francisco Opera Orchestra. He currently lives with his family in New Mexico.
Learn more at: https://timgaiser.com/
MEDIA CONTACT:
Tim Gaiser, Author
Phone: 415-706-1133
tgaiser@earthlink.net
News Source: Author Tim Gaiser