RICHMOND, Va. and BALTIMORE, Md., June 12, 2023 (SEND2PRESS NEWSWIRE) — Matrix Capital Markets Group, Inc. ("Matrix"), a leading independent investment bank, announces that it served as lead advisor on Apollo Veterinary Medical Hospitals and AVMH Ventures' ("Apollo" or the "Company") recapitalization and acquisition of a multi-state portfolio of Pet Supplies Plus ("PSP") retail pet stores.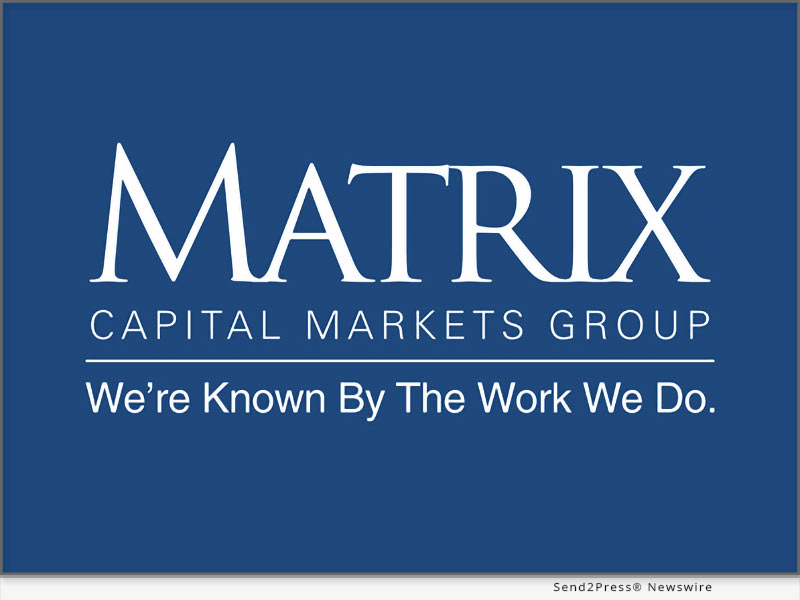 Image Caption: Matrix Capital Markets Group.
A privately-owned company established in 1999 by Dr. Steven Whatley in Albany, GA, Apollo is a leading veterinary care provider in the Southeast.  The Company is comprised of nine full-service veterinary hospital locations throughout Alabama, Georgia, South Carolina, and Florida.
Decades of experience in veterinary medicine and the commercial pet industry led Dr. Whatley to expand the business portfolio to include Pet Supplies Plus franchise retail stores thereby connecting knowledge, passion, and ability to serve customers, while growing profitably within the U.S. pet market.  PSP's franchise platform, growth objectives, and support for owners aligned closely with Apollo's business model and operating philosophy.
"We are proud to add this most recent portfolio of Pet Supplies Plus stores to our existing portfolio and further diversify and expand our business," said Dr. Whatley, Chief Executive Officer of Apollo. "We are committed to operating best-in-class veterinary hospitals and Pet Supplies Plus stores, and we do that by forging personal relationships with our clients, patients, team members and the communities that we serve.  As we continue to expand our presence, we were fortunate to work with Matrix to structure and intermediate this important transaction.  Their experience, functional expertise, and objective approach were critical to securing capital on terms that were very attractive to the Company."
Pet Supplies Plus, a subsidiary of Franchise Group, Inc. (NASDAQ: FRG), is focused on making it easier to get better products and services for their customers' pets. With over 640 locations in 41 states and counting, the stores have a streamlined design making it easy to navigate a wide assortment of natural pet foods, goods, and services. Headquartered in Livonia, Michigan, Pet Supplies Plus is ranked No. 20 in Entrepreneur magazine's 43rd Annual Franchise 500® list as of 2022.
In its role as sole intermediary, Matrix provided capital advisory services to Apollo including financial modeling and sensitivity analysis, capital structure assessment, negotiation with counterparties, and placement of both debt and equity capital.  The assignment was managed by John Whalen, Head of Matrix's Capital Advisory Investment Banking Group; Ryan Weir, Director and Garrett Novotny, CFA, CPA, Senior Analyst.
Mr. Weir added, "We very much appreciate the trust that Apollo placed in us to advise them on the capital raise and acquisition.  Apollo is a great operator and the addition of this portfolio of stores represents a transformational acquisition for the Company as it further scales and diversifies. Matrix was privileged to work with the Apollo Team."
About Matrix Capital Markets Group, Inc.:
Founded in 1988, Matrix Capital Markets Group, Inc. is an independent, advisory focused, privately-held investment bank headquartered in Richmond, VA, with additional offices in Baltimore, MD and New York, NY. Matrix provides merger & acquisition and financial advisory services for privately-held, private-equity owned, not-for-profit and publicly traded companies.  Matrix's advisory services include company sales, recapitalizations, capital raises of debt & equity, corporate carve outs, special situations, management buyouts, corporate valuations and fairness opinions.  Matrix serves clients in a wide range of industries, including automotive aftermarket, building products, car washes, consumer products, convenience retail, downstream energy, healthcare and industrial products.
For additional information or to contact our team members, please visit https://matrixcmg.com/.
Securities offered by MCMG Capital Advisors, Inc., an affiliate of Matrix Capital Markets Group, Inc., Member FINRA & SIPC
MULTIMEDIA:
LOGO link for media: https://www.Send2Press.com/300dpi/23-0602-s2p-matrixlogo-300dpi.jpg
###
MEDIA ONLY CONTACT:
(not for print or online)
Mrs. Honor P. Carver
Director of Marketing and Communications
Matrix Capital Markets Group, Inc.
Phone: 804.591.2050
Email: hcarver@matrixcmg.com
News Source: Matrix Capital Markets Group Inc.