NEW YORK, N.Y., Oct. 24, 2023 (SEND2PRESS NEWSWIRE) — After many iPhone users switch to a newer model, they often encounter difficulties importing their passwords to their iPhone. To address this issue, Tenorshare, a leading tech company, recommends using Tenorshare 4uKey – Password Manager.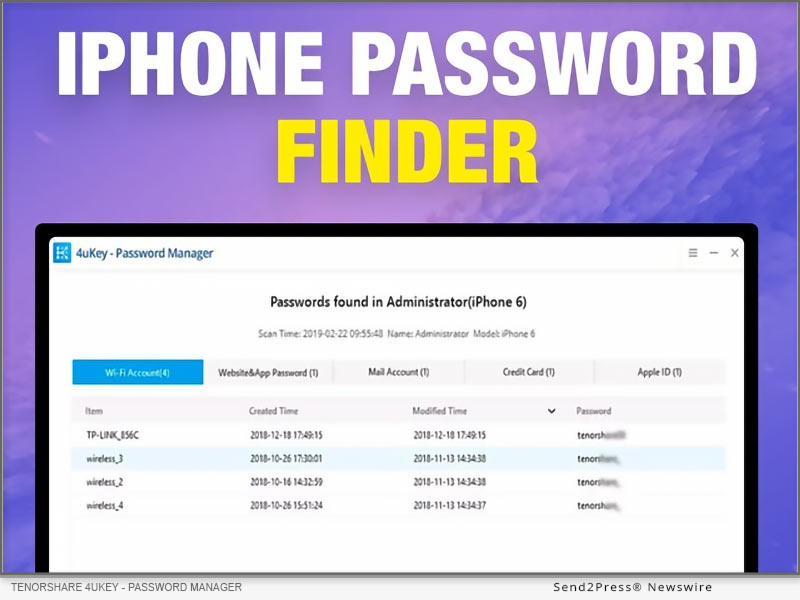 Image Caption: Tenorshare 4uKey – Password Manager.
"One of the recommended ways to import passwords to iPhone or just import Google passwords to iPhone is using Tenorshare 4uKey – Password Manager, a powerful and easy-to-use tool that can help you manage your passwords on iOS devices," said the spokesman of Tenorshare.
HOW TO MANUALLY IMPORT PASSWORDS TO IPHONE KEYCHAIN?
If you recall your passwords, you can input them directly whenever you need to log in. Alternatively, you have the option to manually add them to your iCloud Keychain for easy access.
If you prefer not to manually enter passwords one by one or need to import passwords from various platforms, a highly recommended solution to import passwords to iPhone is Tenorshare 4uKey – Password Manager.
BEST IOS PASSWORD MANAGER-4UKEY [FAST AND EASY]
1. List the dedicated features of 4uKey – Password Manager
Import passwords to iPhone from a variety of sources, including Google Chrome, iCloud Keychain, keeper and other password managers.
It features an easy-to-use interface, making it accessible to everyone.
It works seamlessly with various platforms, making it versatile and user-friendly.
All the passwords from other iOS devices and apps may be effortlessly transferred to an iPhone, and vice versa.
It is compatible with all of the new iOS, including the iPhone 15.
On a PC or a Mac, users may quickly access and manage their iPhone and iPad passwords.
Learn more: https://www.tenorshare.com/password-manage/import-passwords-to-iphone.html
2. How to import passwords to iPhone with 4uKey – Password Manager
Step 1: Download and install 4uKey – Password Manager on your computer.
Step 2: Connect iPhone to computer and click Import passwords on the left.
Step 3: Choose the import location and click Next.
Step 4: Create a CSV file of your custom passwords.
Step 5: Click Next and Import File, then select the CSV file.
Step 6: Click Import to Device to import saved passwords to your iPhone.
Step 7: Wait for the program to finish importing passwords.
Get started here: https://www.tenorshare.com/products/ios-password-manager.html
Tenorshare Unveils a New Look:
Tenorshare is excited to announce the launch of its newly redesigned website! The new website features a fresh look, streamlined navigation, and a focus on user experience.
To celebrate the website's new look, users can enjoy a 30% discount by entering the coupon code "tenorshare2023new" during checkout.
About Tenorshare:
Tenorshare simplifies technology for iOS, Android, Windows, and Mac, offering practical solutions for Data Management, recovery, password retrieval, and system issues. One of their star products is 4uKey – Password Manager, a handy tool that makes handling passwords on your iOS device a breeze. It's not just a brand; it's your go-to buddy for tech help.
More information: https://www.tenorshare.com/
Facebook: https://www.facebook.com/TenorshareOfficial/
X/Twitter: https://twitter.com/Tenorshare_Inc
YouTube: https://www.youtube.com/user/TenorshareOfficial/videos
TikTok: https://www.tiktok.com/@tenorshare_tech_tips
News Source: Tenorshare Co. Ltd.