WASHINGTON, D.C., June 20, 2023 (SEND2PRESS NEWSWIRE) — VocalzMusic & Publishing announces that famed Motown songwriter, recording artist and lone female member of legendary R&B sibling singing group, DeBarge, Bunny DeBarge released her newly revised, tell all memoir, "The Kept Ones: DeBarge, The Fame Years," in print, with a gold ribbon design, on Monday, June 19, 2023.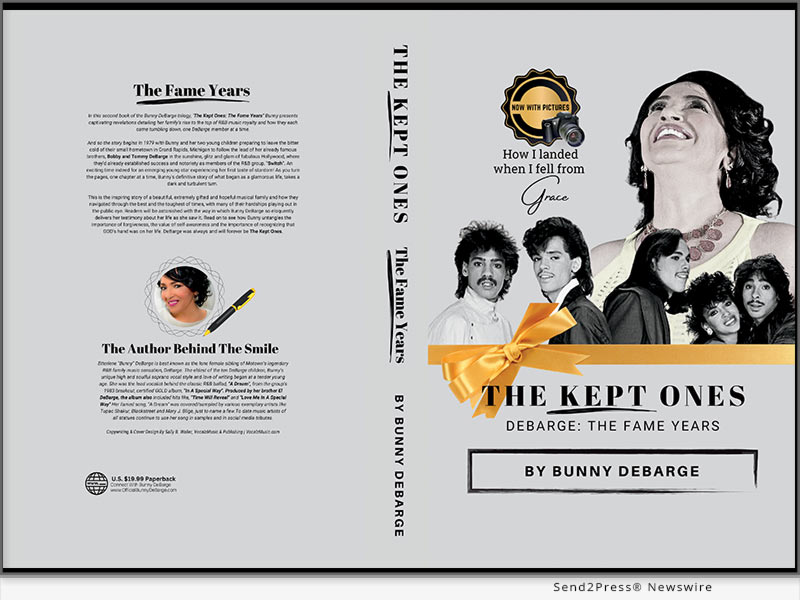 Image Caption: Book jacket for "The Kept Ones – DeBarge: The Fame Years" by Bunny DeBarge.
The second book of a three part series, with the final installment on the way soon, this special edition of her book will include numerous never before seen photographs of the famous DeBarge family and friends.
"The Fame Years" is available on Amazon and at her website, OfficialBunnyDeBarge.com, alongside her first book in the series, "The Kept Ones: DeBarge, The Beginning Years."
In this newly revised edition, which is already gaining biopic buzz, Bunny DeBarge presents captivating revelations detailing her family's rise to the top of R&B music royalty and how they each came tumbling down, one DeBarge member at a time.
So the story begins in 1979 with Bunny and her two young children preparing to leave the bitter cold of their small hometown in Grand Rapids, Michigan to follow the lead of her already famous brothers, Bobby and Tommy DeBarge in the sunshine, glitz and glam of fabulous Hollywood, where they'd already established success and notoriety as members of the R&B group, "Switch". An exciting time indeed for an emerging young star experiencing her first taste of stardom! As you turn the pages, one chapter at a time, Bunny's definitive story of what began as a glamorous life, takes a dark and turbulent turn.
This is the inspiring true story of a beautiful, extremely gifted and hopeful musical family and how they navigated through the best and the toughest of times, with many of their hardships playing out in the public eye. Readers will be astonished with the way in which Bunny DeBarge so eloquently delivers her testimony about her life as she saw it. Read on to see how Bunny untangles the importance of forgiveness, the value of self-awareness and the importance of recognizing that GOD's hand was on her life. DeBarge was always and will forever be The Kept Ones.
Information about "The Kept Ones" book series by Author, Bunny DeBarge, is available at http://www.officialbunnydebarge.com/.
Volumes 1 & 2 are available everywhere books are sold on June 19, 2023. ISBN: 979-8988236610 (Print) | ISBN: 979-8988236627 (Ebook) | Rating 4.5 Stars
For Interviews, public speaking appearances, book signings and media inquiries on behalf of Bunny DeBarge, please contact Sally B. Waller at Sallyb@VocalzMusic.com | 202-529-0909
MULTIMEDIA:
PHOTO link for media: https://www.Send2Press.com/300dpi/23-0620-s2p-keptones-300dpi.jpg
Photo caption: Book jacket for "The Kept Ones – DeBarge: The Fame Years" by Bunny DeBarge.
TAGS: @BunnyDeBarge #Debarge #TheKeptOnes
News Source: VocalzMusic and Publishing