MURRIETA, Calif., Feb. 23, 2023 (SEND2PRESS NEWSWIRE) — The family of late author Dolores F. Kurzeka announced today their plans to donate "Our Walk with Grandma" (ISBN: 978-1039145450, FriesenPress) books to Southern California libraries in honor of National Library Lovers Month. The public is welcome to suggest their favorite public or school library by submitting a message on the "Contact Us" page on ourwalkwithgrandma.com with library name, address and a little information about the suggested library by Friday, March 10, 2023. (See details below.)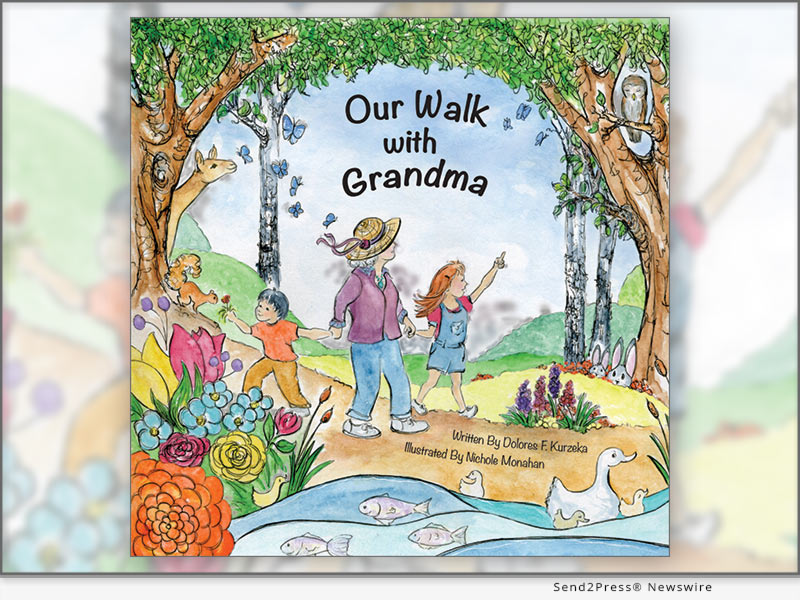 Image Caption: Cover of "Our Walk with Grandma" by Dolores F. Kurzeka.
"National Library Lovers Month is dedicated to book lovers everywhere. It honors libraries, their contributions to society and the amazing life-changing books they offer the community," said Kerry Hirsch, daughter of author Dolores Kurzeka. "We want to donate "Our Walk with Grandma" to bring libraries more storytelling opportunities to the children in their local community."
The newly released children's book is both fun and educational. It shares a cherished time of a grandma and her grandkids enjoying a beautiful walk together while learning about the surrounding nature. It helps build happy memories for the younger generation and reminds older people of the wonderful times they shared with their grandma. Grandkids of all ages love the charming story, gorgeous illustrations and amusing fun facts.
Details:
Book suggestions will be taken until Friday, March 10, 2023 at 12 p.m. EST (9 a.m. PST). One submission accepted per person. First come, first served. One book distributed per library. Up to a total of 50 paperback books will be distributed to libraries in Southern California as far north as the San Luis Obispo, Kern and San Bernardino counties.
Contact us: https://www.ourwalkwithgrandma.com/contact-us
ABOUT THE AUTHOR:
Dolores F. Kurzeka was the dedicated mother of six, grandmother of twelve, and great-grandmother of seven. As a brilliant artist and world traveler she loved to explore the beauty of life and nature, and always looked for teachable moments to share with her family. Kurzeka passed away of Covid-19 in 2021 at the age of 92. She would be thrilled to share her charming book with so many readers.
For more information, visit https://www.ourwalkwithgrandma.com/
BOOK SUMMARY:
Title: Our Walk with Grandma
Author: Dolores F. Kurzeka
Publisher: FriesenPress
ISBN: 978-1-03-914546-7 (hardcover)
ISBN: 978-1-03-914545-0 (paperback)
ISBN: 978-1-03-914547-4 (ebook)
Size: 8.5×8.5: 36 pages, 33 color
Available on Barnes & Noble, FriesenPress bookstore and Amazon. Check pricing and availability.
News Source: Family of Dolores F. Kurzeka