LOS ANGELES, Calif., July 26, 2023 (SEND2PRESS NEWSWIRE) — PDFgear, a leading provider of PDF solutions, announced a piece of exciting news for everyone who works extensively with PDF documents. The company has introduced a free and comprehensive text editing feature in its PDF editor software, which enables users to instantly modify, format, and manipulate text within PDF documents, without expensive subscription-based software.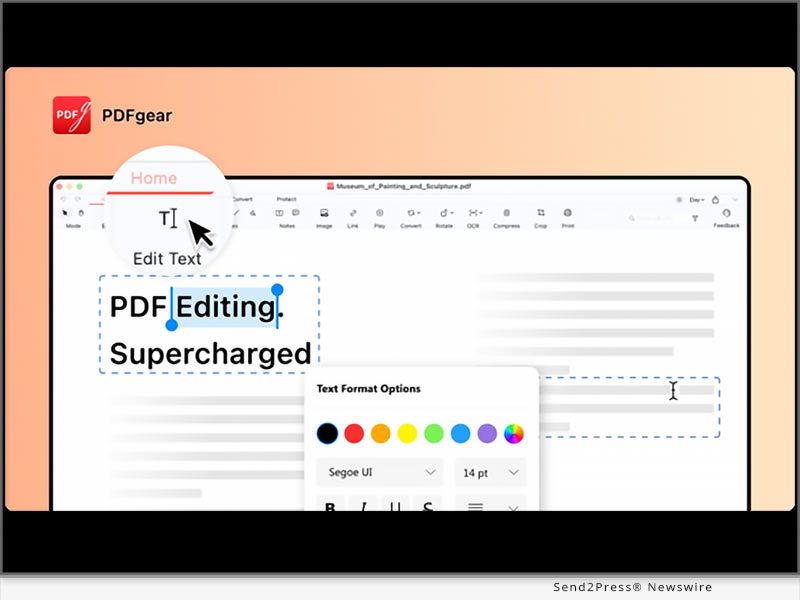 Image Caption: PDFgear Supports Editing PDF Text Free.
This innovative offering aims to deliver costless PDF text editing solutions to paperless document working in different industries.
PDF Text Editing Made Free
Unlike premium PDF editing software like Adobe Acrobat which often charges for text editing capabilities, PDFgear delivers a full set of pro-level PDF text editing features to global users for free.
Users can effortlessly replace, add, delete, move, and rearrange text, and change fonts/typefaces, all without compromising the original formatting of the document.
"Our goal with PDFgear is to make PDF text editing accessible to everyone," said Patrick, head of product at PDFgear. "We understand that while PDFs are ideal for sharing, they have been challenging to edit. With our free text editing feature, users no longer have to rely on expensive software to make changes to their PDFs. Meanwhile, we have made the process as simple and intuitive as possible, resembling the familiar experience of editing a Microsoft Word document."
Powerful and Flexible Text Editing
PDFgear's text editing feature offers a wide range of benefits and flexibility. Users can instantly select text in a PDF and make edits without inserting text boxes or using alike workarounds.
The ability to insert, replace, delete, move, and rearrange text allows for quick and precise modifications to the content.
Additionally, users have the freedom to customize text formatting, including text fonts, styles, sizes, and the underlining and strikethrough for annotations.
For those who solely look for changes in the content, the original formatting of the text in your PDF document is retained throughout the editing process.
Comprehensive PDF Editing Solutions
In addition to text editing, PDFgear provides extensive PDF editing features, enabling users to insert images, fill out PDF forms, manage page numbers, add signatures and comments, remove or add watermarks, highlight text, etc.
Edit Text in Scanned Document PDFs
PDFgear goes beyond conventional PDF editing capabilities by incorporating cutting-edge OCR technology.
This enables users to convert scanned PDFs to fully editable Microsoft Word documents, and PDFgear ensures precise text recognition and extraction from scanned PDF documents.
And PDFgear's OCR feature is free of charge as well.
Learn more: https://www.pdfgear.com/edit-pdf-text/
About PDFgear:
PDFgear is a leading provider of PDF solutions. PDFgear focuses on innovative features and user-friendly design and offers a comprehensive suite of free tools to empower individuals, businesses, and organizations to work efficiently with PDF documents.
For software download or more information about PDFgear, please visit: https://www.pdfgear.com/
###
UPDATED 7:34 a.m. PDT 7.27.23
News Source: PDFgear