3rdPlus Newsroom - Profile and News Archive
3rdPlus is a values driven company that helps senior living communities excel and make aging better. Founded in 2012 as a national aging services branding agency called 3rdThird Marketing, Culinary Coach was added in 2017 to enhance dining operations at senior living communities. The newly expanded company - 3rdPlus - has added two additional divisions to its portfolio: Community Coach, and SparksPlus, which add life enrichment, education and executive coaching to its portfolio.
Engage with 3rdPlus
Learn more online at: https://3rdplus.com/
Follow: Twitter | Facebook | LinkedIn
Press Releases from 3rdPlus :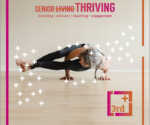 SEATTLE, Wash., Oct. 20, 2021 (SEND2PRESS NEWSWIRE) — 3rdPlus launches today with a mission to make aging better and help break societal and internalized ageist stereotypes by offering transformational services to support communities that serve today's modern elders.