Aclaro Newsroom - Profile and News Archive
Aclaro is a leading provider of Blockchain based Open Data Platforms and Solutions that disrupt the status-quo of disjointed siloed current systems. We aim to level the playing field for small and midsize business by providing solutions that can help them compete with larger competitors.
We use technology to provide solutions that matter, have real returns to a bottom line and contribute to the quality of life of the solution stakeholders. We enhance transparency of transactions via Blockchain technology, out of the box kick ass Apps that use Machine Learning, Business Intelligence and GraphDB's to rock the status quo.
Aclaro, 78 SW 7th St., Suite 500, Miami, FL 33130, USA.
Media Contact:
Melissa Tello
of Aclaro
Tel: (305)934-7323
Email: Melissa.Tello@aclaro.io
Engage with Aclaro
Learn more online at: https://aclaro.io/
Follow: Twitter | Facebook | Instagram | LinkedIn
Press Releases from Aclaro :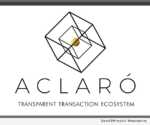 MIAMI, Fla., Aug. 2, 2018 (SEND2PRESS NEWSWIRE) — Aclaro, the leading provider in blockchain-based open platform solutions, recently released its latest A.I. solution. The new tool, Aclaro TrueView is designed to provide automotive and other lenders with a competitive advantage through robust features that save them time, money, and facilitate better lending decisions.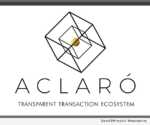 MIAMI, Fla., July 11, 2018 (SEND2PRESS NEWSWIRE) — Aclaro, the leading provider of blockchain based open data platforms and solutions, has announced that it has launched a new Fintech Artificial Intelligence (AI) solution focused on the lending industry. The new solution is Aclaro TrueView. Aclaro aims to equip lenders with the innovative tools needed for competitive advantage with its tech savvy, blockchain based predictive analytics platform that can be utilized without incurring heavy costs.