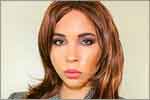 Actress Liz Thomas Newsroom - Profile and News Archive
Actress Liz Thomas was born Elizabeth Ana Maria de Jesus Thomas Corona in Santiago de los Caballeros, Dominican Republic, of Spanish ancestry. Liz grew up in San Ignacio de Sabaneta, Santiago Rodriguez. The younger of five children of Josefa Natividad Corona de Thomas and Manuel de Jesus Thomas Baez.
At the age of five she started doing voiceover Christmas commercials for her father's Radio Station. Three years later she began taking music lessons at the Musical Academy of Santiago Rodriguez where she learned to play the Piano and Flute. She took acting lessons at the age of 10 and discovered her passion for acting. At 14 she started modeling for fashion shows, TV shows, commercials and magazines.
At 16 she moved to Santo Domingo and enrolled in College (Pontificia Universidad Catolica Madre y Maestra) where she got a Bachelor's Degree in Hotel Management, graduating with high honors (Magna Cum Laude). She was a contestant in Miss Dominican Republic 2006, obtaining the 4th Place. She has studied acting in various Institutes in The Dominican Republic and Wisconsin, Including the Milwaukee Repertory Theatre.
She currently lives in New York and has been in several projects including co starting in the movies "Code Black" and "Bound," and in theatre the plays "Something Outrageous," "The Kentucky Tragedy" and "Under The Table." She's currently producing, staring and writing her first Sketch Show inspired in Melania Trump.
Engage with Actress Liz Thomas
Learn more online at: http://lizthomasactress.com/
Follow: Twitter | Facebook | Instagram | YouTube
Press Releases from Actress Liz Thomas :