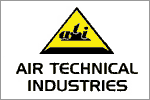 Air Technical Industries Newsroom - Profile and News Archive
Founded in 1964, Air Technical Industries is a manufacturer of a broad line of standard and custom material handling equipment. The company specializes in providing innovative, engineered solutions that meet the specific needs of their customers.
Air Technical Industries offers a fine, diversified line of over 2,500 standard product models which include hydraulic lift tables, maintenance lifts, floor cranes, mobile cranes, fork trucks, stackers, jib and gantry cranes, and manipulators. If you have a handling or automation problem that cannot be solved by standard products, call our experienced ergonomic advisers. We are flexible, innovative, and creative, and have a sincere desire to help our customers. Challenge us to solve your everyday handling problems, . . . .or your most unusual one.
Air Technical Industries, 7501 Clover Ave., Mentor, OH 44060 / 1 (440) 951-5191 – Local. 1 (888) 857-6265 – Toll Free.
Engage with Air Technical Industries
Learn more online at: http://www.airtechnical.com/
Follow: Twitter | Facebook | Google+ | LinkedIn | YouTube
Press Releases from Air Technical Industries :