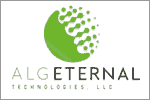 AlgEternal Technologies LLC Newsroom - Profile and News Archive
AlgEternal Technologies, LLC, the parent company of AlgAllure, is a vertically-integrated producer of non-fuel, high value products from microalgae, headquartered in La Grange, Texas.
AlgAllure™ was born from research by AlgEternal into the myriad beneficial products and applications of Nature's primary producers, microalgae, and has rediscovered an unparalleled anti-aging skincare mechanism secreted in the oceans.
This breakthrough revolves around the phenomenal skin-nourishing properties inherent in marine red microalgae, which have over eons developed natural mechanisms to defend against the harsh environments in which they live. These natural defenses work on human skin as effectively as they do for the microalgae.
AlgAllure is a skin-care brand that boasts promising visible results rooted in the breakthrough biotechnology of PhycoDerm, a superior form of red microalgae. This core, patent-pending ingredient offers remarkable regenerative properties. Naturally-sourced and sustainably produced, AlgAllure products offer clean and safe formulas.
COMPANY VISION:
AlgEternal Technologies LLC will reduce human dependence on fossil hydrocarbons and create sustainable economic activity resulting in a healthier planet and improved quality of life for all, by harnessing the power of the PLANET'S PRIMARY PRODUCERS—ALGAE.
COMPANY MISSION:
AlgEternal Technologies LLC will systematically apply microalgae as THE SUSTAINABLE INTEGRATED SOLUTION to the major existing and emerging issues facing our species, faster, more efficiently, and with greater environmental, social, and economic benefits.
Company Contact:
3637 W. State Highway 71.
La Grange, Texas 78945, USA
Main Office – 1.979.208.9932 or 1.979.208.9933
admin@algeternal.com
Media Contact:
David Ramjohn
AlgEternal Technologies, LLC
david.ramjohn@algeternal.com
Engage with AlgEternal Technologies LLC
Learn more online at: http://www.algeternal.com/
Follow: Twitter | Facebook | Instagram | LinkedIn
Press Releases from AlgEternal Technologies LLC :