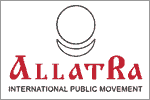 AllatRa International Public Movement Newsroom - Profile and News Archive
ALLATRA International Public Movement is a format of interaction outside of politics and religion. This global Movement, already joined by millions of people from over 140 countries, is open to all people of good will regardless of their place of residence, nationality, social status, religion or political affiliation.
The activities of this volunteer, all people's movement, are aimed at reviving spiritual and moral values in the world community and establishing a peaceful dialogue around cultural, social, spiritual and moral conditions of life within society.
This is a unique, peaceful global movement in which people, in their spare time, successfully implement an entirely new form of communication, an interaction which results in the unification of people around the world based on the principles of honesty, kindness, and justice.
Engage with AllatRa International Public Movement
Learn more online at: https://allatra.org
Follow: Twitter | Facebook | YouTube
Press Releases from AllatRa International Public Movement :
ATLANTA, Ga., April 2, 2019 (SEND2PRESS NEWSWIRE) — "THE UNIVERSAL GRAIN. Game of Professionals. Society. The Last Chance" to be held on May 11, 2019 beginning at 10 a.m. ET, ALLATRA International announced today. This momentous event will be held at Georgia Aquarium, in the Oceans Ballroom in the city of Atlanta, Georgia, USA.