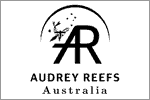 Audrey Reefs Pty Ltd Newsroom - Profile and News Archive
Audrey Reefs Pty Ltd is an Australian company with offices in Sydney, Seoul, New Jersey and Tokyo, founded with the goal of promoting natural products. It focuses on the sustainable and peaceful use of the bounty of the natural environment. While still only a young company, Audrey Reefs has seen strong growth even from its beginning stages, and has plans to grow much further by seeking new consumer markets to share its quality products.
The product development team at Audrey Reefs strives to source the best and most eco-friendly plant-based and laboratory-made ingredients, and utilizes only those ingredients that pass their stringent requirements for safety and efficacy. Audrey Reefs' women's lifestyle brand, Audrey Sun, was created and developed by studying the application of everyday beauty and personal hygiene measures. Audrey Sun's curved sanitary pads were thoughtfully designed with women's needs in mind, and are constructed for a comfortable and secure fit.
Engage with Audrey Reefs Pty Ltd
Learn more online at: https://www.audreyreefs.com.au/
Follow: | Facebook | Instagram | YouTube
Press Releases from Audrey Reefs Pty Ltd :