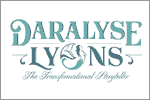 Daralyse Lyons Newsroom - Profile and News Archive
Author Daralyse Lyons wears many hats as an author, actress, yogi, and transformational coach/speaker, but the common thematic elements to all her endeavors is her love of stories and desire to help people find happiness. A summa cum laude graduate of New York University with a double-major in English Literature and Religious Studies and a minor in History, Daralyse brings intelligence, sensitivity, enthusiasm, creativity and business acumen to all of her endeavors. She lives in the quaint Mount Airy section of Philadelphia.
On "The Transformational Storyteller" podcast, Daralyse takes the listener into the lives and minds of real people whose stories have the power to captivate and motivate.
To be a guest on the Transformational Storyteller Podcast, visit https://www.daralyselyons.com/podcast. All sponsor inquiries can be sent to daralyse@daralyselyons.com.
Engage with Daralyse Lyons
Learn more online at: https://www.daralyselyons.com/
Follow: Twitter | Facebook | Instagram | YouTube
Press Releases from Daralyse Lyons :