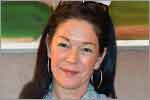 Author Heidi Doheny Jay Newsroom - Profile and News Archive
Heidi Doheny Jay was born and raised outside of Philadelphia, Pa. She began her life as an aspiring dancer but quickly realized that she lacked enough talent to make it to the big stage. She turned to Pharmaceutical sales as a career and has spent the past 15 years in the industry. She discovered her affinity for writing while living in upstate New York when she accidentally signed up for a creative writing class that took place in the basement of a coffee shop.
She is an author, blogger and published columnist who explores the mysteries of life, relationships and what makes men and women tick. She is based out of Philadelphia. When she's not writing, she enjoys taking ballet classes, playing the piano and adoring her rescued blue nose pit bull, Lola Falana. She has a degree in Psychology and holds a Master's degree from Syracuse University.
Engage with Author Heidi Doheny Jay
Learn more online at: https://www.heididoheny.com/
Follow: Twitter | Facebook | Instagram
Press Releases from Author Heidi Doheny Jay :