Wayne Mcfarland Newsroom - Profile and News Archive
Author Wayne McFarland ran away from a small town to the California Circus. Once there, he made a career writing, marketing and working in and around the entertainment industry. Many credits include such things as creative work on live TV productions (Hollywood Sign Commorartion, launch of the refurbished Radio City Music Hall and others). He produced live, multi-media meetings attended by thousands, developed contracts between clients and TV/radio networks, including brand development for the music industry.
Engage with Wayne Mcfarland
Learn more online at: https://www.talesfromtheday.com/
Press Releases from Wayne Mcfarland :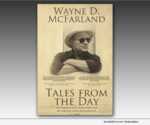 COLORADO SPRINGS, Colo., May 18, 2020 (SEND2PRESS NEWSWIRE) — Colorado author Wayne McFarland breaks memoir mold with release of a hilarious, often moving 27-story chronicle of life events, like shark fishing in (ones) underwear, getting shot or blowing town with a monkey. The memoir is "Tales From The Day" (ISBN: 978-1645503347).