BargainsLA Newsroom - Profile and News Archive
BargainsLA.com is Southern California premier source for "up to the minute' Bargain shopping scoop including discount boutiques, stores, warehouse and sample sales and consumer information. Originally created in 1999 by Kevin and Suzanne O'Connor, BargainsLA now covers Los Angeles, Orange and Riverside Counties.
"If it isn't Quality, it isn't a Bargain!"
Media Contact:
Suzanne O'Connor
BargainsLA
suzanne@bargainsla.com
Engage with BargainsLA
Learn more online at: http://www.bargainsla.com/
Follow: 𝕏 (Twitter) | Facebook | YouTube | Pinterest
Press Releases from BargainsLA :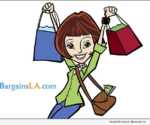 LOS ANGELES, Calif., Oct. 8, 2019 (SEND2PRESS NEWSWIRE) — BargainsLA.com, is Southern California's premier bargain shopping guide to discount outlets, sample sales, warehouse sales and liquidation outlets. Since October 1999, BargainsLA's founder, Suzanne O'Connor, has reviewed over 1,000 "Off Price" discount outlets and posted over 15,000 sample sales and warehouse sales.