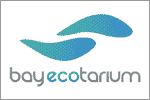 Bay Ecotarium Newsroom - Profile and News Archive
Bay.org DBA Bay Ecotarium is a 501(c)(3) non-profit organization with a mission to enable conversations on climate resilience and ocean conservation globally, while inspiring actionable change locally by protection and preservation of the San Francisco Bay and its ecosystems, from Sierra to the Sea™.
Aquarium of the Bay and the Sea Lion Center on the Embarcadero/PIER 39 lead the organization and are visited by millions. Other institutions include, The Bay Institute, the Bay Model Alliance, the Bay Academy and the Eco Center Park at Heron's Head.
Engage with Bay Ecotarium
Learn more online at: https://bayecotarium.org/
Follow: Twitter | Facebook | Instagram | YouTube
Press Releases from Bay Ecotarium :