BlackFin Group Newsroom - Profile and News Archive
BlackFin Group is a boutique management consulting firm that specializes in the five critical disciplines of business to help with your specific needs. We are skilled in the successful execution of your firms' critical initiatives.
When considering over 65 percent of all strategic initiatives fail (business and technology projects) - your firm needs to know you have the right business partner in place that ensures success.
Services Contact:
Office: (949) 326-5675
info@BlackFinGroup.com.
Engage with BlackFin Group
Learn more online at: https://www.blackfin-group.com/
Follow: Twitter | Facebook | Instagram
Press Releases from BlackFin Group :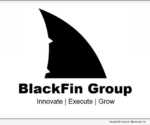 IRVINE, Calif., May 8, 2019 (SEND2PRESS NEWSWIRE) — BlackFin Group – a boutique-style consulting firm focused on mortgage banking and financial services – announced that it has formally launched operations with the goal of bringing a unique method to projects that drastically deviates from the way traditional consulting practices work with clients.