Blair for Congress Newsroom - Profile and News Archive
Congressional candidate for U.S. House TN District-1 Blair Walsingham is committed to putting people before politics. Endorsed by key community and national organizations including the Humanity First Party, Black Coffee Justice, and Income Movement, Blair is a veteran, outdoorswoman, small business owner and mother who can now also tout this new prestigious endorsement by Yang's organization, Humanity Forward. Her campaign is laser-focused on helping the 1st District survive today and thrive tomorrow.
Engage with Blair for Congress
Learn more online at: https://blairforcongress.com/
Follow: Twitter | Facebook | Instagram | YouTube
Press Releases from Blair for Congress :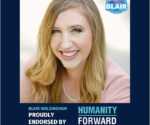 EIDSON, Tenn., June 15, 2020 (SEND2PRESS NEWSWIRE) — Blair Walsingham, candidate for US Congress TN District 1, announced today an endorsement by former presidential candidate Andrew Yang and his non-profit, Humanity Forward. Yang's campaign focused on Human Capitalism and Universal Basic Income, inspiring a movement to end partisan politics and seek solutions driven by data.