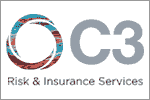 C3 Risk and Insurance Services Newsroom - Profile and News Archive
C3 Risk & Insurance Services aids medium to large businesses reduce insurance costs and mitigate unexpected financial loss through a combination of new age technology and old school human capital.
The agency brings a unique and fresh approach to the marketplace staffing atypical resources such as a video production team and software developers that create custom products for their clients.
The independent agency is a full-service shop providing products and services that support all lines of property & casualty, employee benefits and personal lines. The agency is licensed in mostly all U.S. states and territories.
CONTACT:
C3 RISK & INSURANCE SERVICES
404 CAMINO DEL RIO SOUTH, STE 410, SAN DIEGO, CA 92108, UNITED STATES OF AMERICA
619-233-8000
RELATIONS@C3INSURANCE.COM
Engage with C3 Risk and Insurance Services
Learn more online at: https://www.c3insurance.com/
Follow: Twitter | Facebook | Instagram | LinkedIn
Press Releases from C3 Risk and Insurance Services :