Camp Ho Mita Koda Newsroom - Profile and News Archive
The Camp Ho Mita Koda Foundation is a registered 501(c)(3) that was formed in 2017 to save and operate Camp Ho Mita Koda in Newbury, Ohio. Each summer, over 150 campers come to our 72-acre camp to make friends, have fun, and learn how to manage their disease.
Ho Mita Koda! That's Sioux for "Welcome my friend!" and a mantra we embody here at Camp Ho Mita Koda. Founded in 1929 by Dr. Henry John, a pioneer in the use of insulin to treat diabetes, Camp Ho Mita Koda is the oldest and longest running diabetic summer camp in the U.S. Located on 72 picturesque acres east of Cleveland, OH in Geauga County, Camp Ho Mita Koda continues to be the highlight of hundreds of diabetic children's summers. Our goal is to help our campers have fun and learn about their disease and how to manage it.
Each summer, Camp serves over 400 children and has a dedicated team of highly trained counselors and staff that make each camper experience memorable through over 30 different activities. Through partnerships with Cleveland's world-class hospitals, Camp has highly skilled medical staff on hand 24/7. Medical supplies are provided during camp through the support of some of the world's leading pharmaceutical companies, including Johnson & Johnson, Eli Lilly, Novo Nordisk, and Sanofi.
Engage with Camp Ho Mita Koda
Learn more online at: https://www.camphomitakoda.org/
Follow: Twitter | Facebook | Instagram | LinkedIn
Press Releases from Camp Ho Mita Koda Foundation :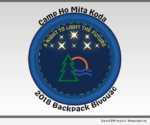 NEWBURY, Ohio, Aug. 27, 2018 (SEND2PRESS NEWSWIRE) — The Camp Ho Mita Koda Foundation is proud to announce that its 2018 Backpack Bivouac fundraising event will take place at the Helmsley Pavilion at Camp Ho Mita Koda on Saturday, September 29, 2018, beginning at 6 p.m. This year's theme, "A Night to Light the Future," will raise critical dollars to help Camp Ho Mita Koda host children with diabetes as campers well into the future.