Certa Newsroom - Profile and News Archive
Founded in 2015 and headquartered in Silicon Valley, Certa's mission is to connect companies safely and efficiently. Certa offers an industry-leading lightweight workflow platform for onboarding, risk management, monitoring and contracting, custom configured to each client's rules and risks.
The no-code platform enables seamless integration and development of sophisticated mission critical enterprise applications without writing any code. With Certa, enterprises can digitize externally facing mission critical workflows quickly without spending time on integrations or managing process changes. Certa clients include a Top 3 consulting firm, a ride-sharing tech giant and several Fortune 50 retailers.
Engage with Certa
Learn more online at: https://www.getcerta.com/
Press Releases from Certa :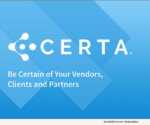 PALO ALTO, Calif., Jan. 28, 2021 (SEND2PRESS NEWSWIRE) — Certa, the leading no-code platform for cross-enterprise solutions including supplier risk management, KYC/AML and credit and insurance applications, has significantly boosted its leadership strength with key hires of senior talent, as well as other leadership moves.