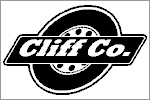 Cliff Co Newsroom - Profile and News Archive
Cliff Co LLC ('Cliffco') is dedicated to providing fast, quality service on all makes of equipment along with preventative maintenance to reduce repairs and ensure increased machine uptime. Cliffco is also committed to providing quality and dependable off road equipment to companies striving to conduct business in the most efficient manner.
Cliff Co is a unique blend of heavy equipment, diesel, hydraulic service and repair. The former is also combined with machining, fabrication, specialty welding, prototyping and parts replication capabilities. The diversity of capability, service and staff offer greater Phoenix and the entire valley a one stop solution opportunity.
Media Contact:
If you would like more information about this topic, please call Frank Pearson at 602-442-6913, or email Frank@CliffCoRepair.com.
Engage with Cliff Co
Learn more online at: http://cliffcorepair.com/
Follow: | Facebook
Press Releases from Cliff Co :