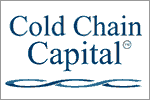 Cold Chain Capital LLC Newsroom - Profile and News Archive
Cold Chain Capital™ is a private equity firm focused on the Air Conditioning, Heating, and Refrigeration industry ("HVACR").
Investments span OEM/manufacturing, service/installation and wholesale/distribution. Geographically, it focuses on companies with headquarters in North America, South America and Europe.
Cold Chain Capital's managing partner and senior advisors have a combined HVACR and investment experience of more than 200 years. Several company leaders have held president positions with leading air conditioning and refrigeration companies, as well as have had tenure at premier investment banks and strategy consulting companies.
Engage with Cold Chain Capital LLC
Learn more online at: https://coldchaincapital.com
Press Releases from Cold Chain Capital LLC :