Common Networks Newsroom - Profile and News Archive
Common Networks is a wireless 5G home internet provider that brings fiber-class internet to homes. Common Networks is pioneering the use of graph networks to take on traditional incumbents and cable networks to deliver ultra high-speed internet.
Founded in 2016, the company is based in San Francisco and has raised more than $34 million in funding from notable partners including General Catalyst, Eclipse Ventures, and Lux Capital.
Common was founded by technology industry veterans Zach Brock, Grace Chen, Mark Jen, and Jessica Shalek. The founding team all previously worked at Square where they built the Square Register product, started the Square developer platform, and led Growth teams for domestic and international expansion.
High resolution images and other press resources are available at https://common.net/press
Engage with Common Networks
Learn more online at: https://common.net/
Follow: Twitter | Facebook | LinkedIn
Press Releases from Common Networks :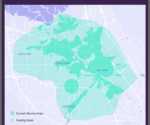 SAN FRANCISCO, Calif., June 6, 2019 (SEND2PRESS NEWSWIRE) — Common Networks today announced the launch of its ultra high-speed internet service in the South Bay region. Common is the world's first and only commercially available, graph-based network delivering home internet service, and is now providing residents in Santa Clara, San Jose, and Sunnyvale with a new choice for reliable high-speed home internet.