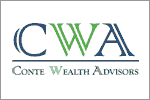 Conte Wealth Advisors LLC Newsroom - Profile and News Archive
Conte Wealth Advisors, LLC provides innovative planning strategies and wealth management through its team of independent, educated professionals who empower their clients to affect positive and lasting change in their financial, professional, and personal lives.
With over 100 years of collective experience, we are proud to be a third generation firm servicing our clients, their children, and grandchildren.
Whether providing a company with second opinion for its 401(k) plan, providing investment support for its employees, working with the self-employed, or advising the independently wealthy, CWA works as a team to ensure that no opportunity to enhance a client's financial situation is missed.
As Independent Advisors, CWA uses its independence of individual investment firms or insurance companies to its client's benefit. Investment, insurance, and planning strategies are constantly revisited and re-evaluated on-site in order to provide the most suitable and cost-effective plans for our clients.
Our personal goal is to provide you with guidance that can help you understand and better define your financial goals. What you need to feel secure.
Engage with Conte Wealth Advisors LLC
Learn more online at: https://www.contewealth.com/
Follow: Twitter | Facebook | LinkedIn
Press Releases from Conte Wealth Advisors LLC :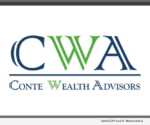 TAMPA, Fla., March 14, 2019 (SEND2PRESS NEWSWIRE) — Camp Hill, Pennsylvania based independent financial services firm, Conte Wealth Advisors, LLC (CWA), has welcomed its first Tampa, Florida advisor, Robert Seaman, to its advisory team.