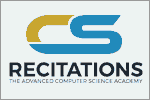 CS Recitations Newsroom - Profile and News Archive
Based in Natick, Mass., CS Recitations LLC provides after-school and summer coding and math classes to kids and teens at all levels. CS Recitations was founded in 2017 by David Horrigan.
In 2018, one of CSR's students won first place nationally at the seventh grade level in the Continental Mathematics League Computer Science competition. Several students won regional awards.
CS Recitations - The Advanced Computer Science Academy
Location:
5 Michigan Drive, Suite 201
Natick, MA 01760
Phone: 781-349-7370
Email: info@CSRecitations.com
Engage with CS Recitations
Learn more online at: http://www.csrecitations.com/
Press Releases from CS Recitations :