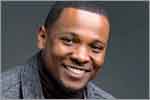 David Busby Newsroom - Profile and News Archive
David Busby is a self-realized saint who was almost destroyed by sinners. He serves as an amazing example of perseverance, strength and vision. Catch him on this season of "Saints and Sinners" and look out for him in "The Bobby Brown Story."
An Inglewood, California native, now living in Atlanta, Busby was raised by his school teacher grandmother and jazz musician grandfather. Church played an important role in his childhood and he always believed he was destined to do great things. After two near death experiences, Busby decided that time was now. He always felt drawn to acting and finally decided to seriously pursue it.
He has secured four episodes on the third season of "Saints and Sinners," portraying Profit, a villain who is the perfect menace to society. In addition, Busby has landed a coveted role in the upcoming original BET miniseries, "The Bobby Brown Story" slated for airing later this year. Busby will play Billy, the long-time friend of R&B icon Bobby Brown.
Media Contact:
Makeda Smith
Jazzmyne Public Relations
makeda@jazzmynepr.com
323-380-8819
Engage with David Busby
Learn more online at: https://www.instagram.com/nonregular/
Follow: | Instagram
Press Releases from David Busby :