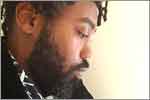 Deon D. Jenkins Newsroom - Profile and News Archive
Deon D. Jenkins, also known as grass roots hip hop organizer Alpha Leo, is a Democratic Presidential Candidate in California, for the 2020 election. He is registered with the Federal Elections Commission (FEC) and his platform is based on what he calls D.M.L.G.
According to Jenkins, "A new generation of voters dominate the Black constituency, and it seems as if we finally have a reparations agenda, and refuse to fall for the sixty-year trend of benign neglect politics. I decided to give the people an idea for what a genuine campaign should look like. It is a very precise Reparations package. I call it D.M.L.G: Defense, Money, Land, Grants."
Engage with Deon D. Jenkins
Learn more online at: https://www.reparationsforpresident.com/
Follow: Twitter | Facebook | Instagram | YouTube
Press Releases from Deon D. Jenkins :