Discount Pumps Newsroom - Profile and News Archive
Since 2003, Discount Pumps has been your one-stop source for all your outdoor pond fountain and decorative lake aerator needs, LED lighting, pond maintenance supplies at large discounts.
Engage with Discount Pumps
Learn more online at: https://discount-pumps.biz/
Follow: 𝕏 (Twitter) | Facebook | Instagram | Pinterest
Press Releases from Discount Pumps :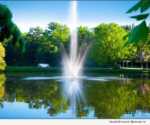 SANTA MARIA, Calif., July 26, 2019 (SEND2PRESS NEWSWIRE) — A property with a pond and all of the aquatic life is beautiful and serene, but in order to keep a healthy balance and water clarity, a pond aerator is essential. To maximize your pond's aeration, the pond aerator you select needs to be large enough for the pond size. Discount Pumps presents a variety of pond aerators and sizes to choose from.