ENKI Brewing Company Newsroom - Profile and News Archive
Since opening in the historic Victoria Creamery in 2013, ENKI Brewing has been an essential part of the local community. ENKI now occupies a 20,000 sq.ft. facility with 150 seat taproom and 200 seat event center overlooking the brewhouse.
We seek to be #bettertogether by creating positive gathering spaces for nurturing lasting friendships and by contributing to local non-profit causes aligned with our mission to make the world a friendlier place.
We are inspired to brew beer that fosters communion, congregation, and conversation. We believe that experiences shared together lead to enduring friendships. And, we are committed to working together to make our beer the best it can be today and even better tomorrow.
Engage with ENKI Brewing Company
Learn more online at: http://www.enkibrewing.com/
Press Releases from ENKI Brewing Company :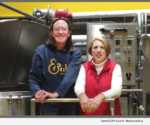 VICTORIA, Minn., Feb. 27, 2019 (SEND2PRESS NEWSWIRE) — ENKI Brewing Company announced the launch of Raspberry Bomb Saison (RBS) March 8 in its taproom, highlighting the exploding role of women in the beer business. ENKI Brewer, Kendra Gephart, created RBS using a blend of hops developed by the members of Pink Boots Society.