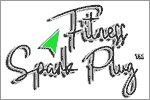 Fitness Spark Plug Newsroom - Profile and News Archive
Fitness Spark Plug, LLC was founded by fitness expert Matthew Jay Fogle. Based in Jacksonville, Florida, the company's debut product is a lifestyle and health app, called 1 Workout 4 Life -designed to get people in shape and keep them in shape - not just for the short-term, but long-term too.
1 Workout 4 Life is a combination of exercise routines that uses multiple rep ranges and rest intervals, a mixture of cables, dumbbells, barbells and other modalities. It also includes compound and isolated movements for enhanced progression and targets all the major muscle groups.
Fitness Spark Plug, LLC
7643 Gate Parkway, Suite #104-184
Jacksonville, FL 32256
Phone: 833-507-3535
Email: Info@FitnessSparkPlug.com
MEDIA QUERIES: Media@FitnessSparkPlug.com
Engage with Fitness Spark Plug
Learn more online at: https://www.1workout4life.com/
Follow: Twitter | Facebook | YouTube
Press Releases from Fitness Spark Plug :