Fusion Broadband Newsroom - Profile and News Archive
Fusion Broadband provides a unique broadband bonding solution that fuses multiple broadband connections together to make a much faster and more reliable connection. This gives businesses an easy, affordable, broadband bonding service that is ISP independent and delivers high speed data connections with more reliability and stability. The company has been bonding broadband services since 2011 with products installed in Australia, North America, Asia and Europe.
Organisations are now taking advantage of Fusion SD-WAN, which provides an affordable multi-site private network (SD-WAN) solution with exceptional flexibility, performance and control. Fusion Broadband has more than 300 resellers globally, selling and supporting the range of their products. As part of its reseller program and ISP license program, ISP's or larger MSP's can license the solution for their own deployment.
Fusion Broadband, Suite 8, Level 1, 119-125 Ocean Beach Road, Sorrento, Victoria 3943, Australia.
Engage with Fusion Broadband
Learn more online at: https://fusionbroadband.com.au/
Follow: Twitter | Facebook | YouTube
Press Releases from Fusion Broadband :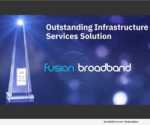 SORRENTO, Victoria, May 7, 2020 (SEND2PRESS NEWSWIRE) — Australia's first SD-WAN provider, Fusion Broadband, has received IBM's global Beacon Award for Outstanding Infrastructure Services Solution. The IBM Beacon Awards recognize IBM Business Partners that deliver exceptional solutions to help drive business value and transform the way clients and industries operate.