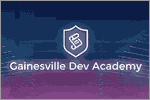 Gainesville Dev Academy Newsroom - Profile and News Archive
Gainesville Dev Academy is a professional training school that offers training in current front-end development skills to meet the needs of the tech industry.
For Students, the education we provide is unique, valuable, and will help you become a better programmer. We work with companies to build programs that either complement existing internal training, or offload 100% of the training to us.
Engage with Gainesville Dev Academy
Learn more online at: http://gainesvilledevacademy.com/
Follow: Twitter | Facebook | Instagram
Press Releases from Gainesville Dev Academy :