Golf For Blind Inc Newsroom - Profile and News Archive
At Golf For Blind, Inc., a Florida-based "not-for-profit" founded by George Nauck, we are dedicated to creating new horizons for the blind and vision impaired. There should be nothing to prevent the blind from playing competitive golf.
Performance measurement and feedback are key to perfecting any activity or process. In 1994 we completed a prototype system to measure shots at targets on a range, and developed a scoring system based on statistical quality control.
We will use this technology to enable the blind and their coaches to quickly perfect golf shots at targets that are competitive with sighted golfers. These measured and scored target shoots will form the basis of the first ever paralympic sport for blind golfers.
Engage with Golf For Blind Inc
Learn more online at: https://golfforblind.org/
Press Releases from Golf For Blind Inc :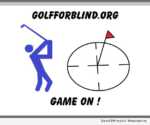 TAMPA, Fla., Sept. 17, 2018 (SEND2PRESS NEWSWIRE) — Florida resident George Nauck has established Golf For Blind, Inc., a Florida Not For Profit Corporation. Funds raised will be used to place golf shot measurement and scoring systems on ranges where blind and disabled veterans may learn to play golf through measured and scored target shoots.