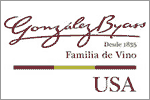 Gonzalez Byass Newsroom - Profile and News Archive
Gonzalez Byass is a family-owned collection of wineries founded in 1835 which spans across Spain's most important wine producing regions. From its foundation, the Gonzalez family have been dedicated to making fine Sherries and brandies in Jerez, Spain, creating such well-known brands as Tío Pepe Fino Sherry and Lepanto Brandy de Jerez.
Today the fifth generation of the family are the custodians of these exceptional brands having built the company into a family of wineries which produces wine in some of Spain's most famous regions; Bodegas Beronia (Rioja and Rueda), Cavas Vilarnau (Barcelona), Finca Constancia (Vino de la Tierra de Castilla), Finca Moncloa (Vino de la Tierra de Cadiz), Vinas del Vero (Somontano) and Pazo de Lusco (Rías Baixas). In each of these regions the family strives to make the best possible quality wines respecting the local terroir and the environment.
Gonzalez Byass is now one of Spain's most well-recognized brand owners world-wide. Their passion for quality wine production and respect for long-standing traditions, whilst at the same time innovating, have been the guiding principles that have led to the company's global success. In 2018, they were recognized by the Wine Star Awards as the Best European Winery of the Year at the annual gala held in Miami, Florida.
Engage with Gonzalez Byass
Learn more online at: https://www.gonzalezbyass.com/en
Follow: Twitter | Facebook | Instagram | LinkedIn
Press Releases from Gonzalez Byass :