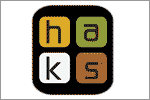 Hak's Newsroom - Profile and News Archive
Hak's is a dynamic and growing, global brand focused on bringing amazing flavor profiles, a clean ingredient philosophy and an elevated style of convenience to consumers.
With broad applications and impeccable taste, Hak's BBQ sauces, cooking sauces, and salad dressings are all built on quality and integrity. Hak's BBQ sauces hit you with bold flavors that you can use for marinating, grilling, dipping and more. Hak's One Pot Sauces are as versatile as they are delicious. Combine any protein, veggie or grain with a Hak's One Pot sauce and you have an instant meal. Hak's salad dressings are 6, one oz. portioned, ready to use singles that are convenient and mess free. There are 8 gluten free, non GMO, delicious flavors ready to be tossed onto your favorite salad at home or on the go.
Originally a financial advisor, Sharone Hakman left his career to launch Hak's and pursue his passion in the culinary world. He successfully appeared on the first season of FOX Network's MasterChef: a reality cooking show which sought to find America's most promising amateur chef. He tested his creation; feeding bbq sauce-smothered steak to 500 Marines at Camp Pendleton, and satisfying America's road warriors with gourmet bbq burgers during a truck stop challenge.
When TV's toughest food critics and chefs were blown away, with celebrity chef Gordon Ramsay calling Hak's "the most delicious BBQ Sauce EVER made...." Sharone knew it was time to share. Hak's has since grown into a global brand consisting of BBQ sauces, cooking sauces and salad dressings.
Hak's is surpassing its competition with unique flavor profiles, clean ingredients and an elevated style. Growing quickly in just a few short years, Hak's products are now available in over 12,000 stores across the United States, including Kroger, Target, Whole Foods, Sprouts, and many more.
The company is also currently expanding into food service.
Engage with Hak's
Learn more online at: http://haks.com/
Follow: Twitter | Facebook | Instagram | LinkedIn | YouTube
Press Releases from Hak's :