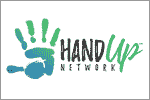 Hand Up Network Newsroom - Profile and News Archive
Based in Tyler, Texas, the Hand Up Network™ is a 501(c)(3) non-profit that has assembled an international team of leaders with decades of experience with a desire to come back home and bring focus to those in need in local communities.
The Network offers long-term programs to people seeking a new season in life and response teams designed to address community issues and emergency response.
The Network provides intentional volunteer opportunities for people wanting to provide support within their programs and opportunities to engage via Response Teams.
Media Contact:
Jessica Richardson
Director of Network Development
Hand Up Network
903-597-5334
Info@HandUpNetwork.com
Engage with Hand Up Network
Learn more online at: https://handupnetwork.com/
Follow: Twitter | Facebook | LinkedIn
Press Releases from Hand Up Network :