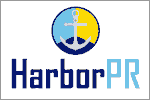 HarborPR Newsroom - Profile and News Archive
HarborPR is a South Carolina-based strategic communications, public relations, and public affairs advisory firm. We are Senior, Board-Level Advisors for businesses and organizations, those moving to, starting or expanding operations in South Carolina.
We also work with non-profit organizations as well as State, County and Local Governments to plan, develop and implement multi-faceted public perception and communications campaigns.
Engage with HarborPR
Learn more online at: http://www.harborpr.biz/
Follow: | Facebook
Press Releases from HarborPR :