HexGn Newsroom - Profile and News Archive
At Hexgn, our mission is to help people futureproof their businesses and their lives. We believe that technology is transforming the way we work, live and relate to it, and we can take advantage of the opportunities it is creating.
Just like the 6-sided hexagon ties and links everything back, we connect, collaborate and converge Students, Entrepreneurs, Education Institutions, Government agencies, Investors and Corporates.
At HexGn, our programs are more than theory. They're about action, and equipping you with the practical tools and strategies necessary to have an immediate impact.
Our Faculty, drawing on their own research as well as current trends in business thinking, combine research-based knowledge with real-world experiences, covering a wide range of topics that reflect the most critical challenges facing today's generation.
Engage with HexGn
Learn more online at: https://hexgn.com/
Follow: Twitter
Press Releases from HexGn :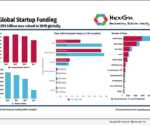 NEW YORK, N.Y., Dec. 27, 2019 (SEND2PRESS NEWSWIRE) — HexGn released a study of the funding trends in the global startup ecosystem in 2019; the team analyzed over 60,000 deals and one million data points for the report.