HoloPundits Newsroom - Profile and News Archive
HoloPundits is a global technology company with expertise that spans the entire spectrum of AR, VR, and mixed reality. Headquartered in Dublin, Ohio with offices in Chennai, India, HoloPundits works with brands across a variety of industries to transform their experience through immersive technology.
Engage with HoloPundits
Learn more online at: https://www.holopundits.com/
Follow: Twitter | Facebook | LinkedIn | YouTube
Press Releases from HoloPundits :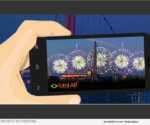 DUBLIN, Ohio, June 25, 2020 (SEND2PRESS NEWSWIRE) — While social distancing guidelines are still in effect, many Fourth of July celebrations have been put on hold. Though nothing can replace the magic of real fireworks, HoloPundits, a technology company, created a free augmented reality experience available to anyone with a smartphone or tablet.