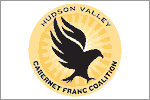 Hudson Valley Cabernet Franc Coalition Newsroom - Profile and News Archive
The Hudson Valley Cabernet Franc Coalition (HVCFC) was formed in February 2016 to coordinate efforts to promote the signature grape; the coalition is co-led by Doug and MaryEllen Glorie of Glorie Farm Winery in Marlboro, N.Y., and Robert Bedford and Linda Pierro of Hudson Valley Wine Magazine, Coxsackie, N.Y.
The coalition has been organizing activities to help establish a Cabernet Franc identity in the region, create awareness of Cabernet Franc wines produced in the Hudson Valley, and to promote a long-term initiative to consumers.
The HVCFC is a group composed of Hudson Valley winery owners, grape growers, wine makers, and wine industry supporters. The HVCFC's mission is to establish a Cabernet Franc brand identity for the Hudson River Region; encourage more vineyard plantings of Cabernet Franc; promote Hudson Valley Cabernet Franc wines to the broader regional area; and increase the visibility of the Hudson River Region appellation, and the wineries within it.
Media Contact:
Doug Glorie, Co-founder/President
Hudson Valley Cabernet Franc Coalition
info@hvfranc.com
www.hvcabfranc.com
(845) 325-3387
Engage with Hudson Valley Cabernet Franc Coalition
Learn more online at: http://hvcabfranc.com/
Follow: | Facebook | Instagram
Press Releases from Hudson Valley Cabernet Franc Coalition :