ICS Tax LLC Newsroom - Profile and News Archive
ICS Tax, LLC (ICS) is a consulting firm providing innovative tax planning strategies. ICS collaborates with taxpayers and their tax professionals to identify credits and incentives that reduce tax liabilities and increase profitability. ICS provides nationwide service through its offices located throughout the country.
Engage with ICS Tax LLC
Learn more online at: https://ics-tax.com/
Follow: Twitter | Facebook | LinkedIn
Press Releases from ICS Tax LLC :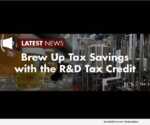 BOSTON, Mass., March 10, 2021 (SEND2PRESS NEWSWIRE) — While the trendy term "Microbrewery" may have been the proper terminology for new craft beer breweries and startups, they no longer remain "micro" in revenue, says ICS Tax, LLC (ICS). Growth in the craft beer industry in the U.S. has steadily grown to almost $30 billion.