Kofi Nartey Newsroom - Profile and News Archive
A leading authority on luxury real estate and development, Kofi Nartey is the go-to broker for affluent clientele, celebrities, and prominent sports figures around the globe. He is the founder of GLOBL Real Estate + Development, a private real estate firm based in Beverly Hills, with global reach. He regularly appears on national television and in print media outlets, including The Wall Street Journal, Los Angeles Times, CBS, CNBC, Fox Business News, ESPN, CNN Money, and The Insider.
He was recently named to the LA500, as one of the most influential business leaders in Los Angeles. Kofi leverages his exposure, reach, professional sports and acting experience, MBA business acumen, and his desire to unlock potential in every business and person he engages.
Engage with Kofi Nartey
Learn more online at: https://www.globlred.com/
Follow: | LinkedIn
Press Releases from Kofi Nartey :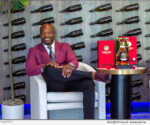 BEVERLY HILLS, Calif., Oct. 5, 2021 (SEND2PRESS NEWSWIRE) — Cardinal du Four, 21 Rébellion, a flagship spirit for the Armagnac world and the modern connoisseur's answer to Cognac, has partnered with international businessman, Kofi Nartey, as its first brand ambassador. After hosting several successful events together, the Armagnac maker and the Beverly Hills based real estate broker saw the alignment and knew a partnership was inevitable.