Levy Konigsberg LLP Newsroom - Profile and News Archive
LEVY KONIGSBERG LLP (LK) has established itself as one of the nation's premier law firms featuring highly acclaimed mesothelioma lawyers with decades of experience in the areas of asbestos exposure and mesothelioma law. The firm also prides itself on the accomplishments attained by its lead poisoning lawyers, whistleblower attorneys, product defect lawyers, medical malpractice & personal injury attorneys.
LK has litigated precedent-setting cases and obtained significant rulings and judgments, which have included some of the highest awards in mesothelioma, asbestos, lead poisoning, and personal injury litigation. As plaintiff's advocates, we pledge the best of our experience, skill, and resources to every client.
Engage with Levy Konigsberg LLP
Learn more online at: https://www.levylaw.com/
Follow: Twitter | Facebook | LinkedIn
Press Releases from Levy Konigsberg LLP :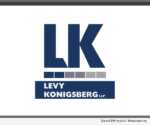 BOSTON, Mass., Oct. 15, 2018 (SEND2PRESS NEWSWIRE) — On October 12, 2018, a jury in Boston awarded $43.1 million dollars in a historic lung cancer trial involving both tobacco and asbestos claims. The case began in June of 2015 when Levy Konigsberg LLP, and its co-counsel Shepard Law, filed the case on behalf of Louis E. Summerlin and his wife Joanna M. Summerlin, against R.J. Reynolds Tobacco Company ("Reynolds"), Philip Morris USA, Inc. ("Philip Morris") and numerous companies who manufactured and sold asbestos-containing products with which Mr. Summerlin worked as a brake mechanic.