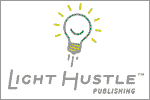 Light Hustle Publishing Newsroom - Profile and News Archive
Light Hustle Publishing is the imprint helmed by New York Times bestselling author Anna David. At Light Hustle we're here to help people share their stories. Our core business is based around helping entrepreneurs and those who want to write books to build their credibility. We also coach writers in how to write memoirs and build their audiences.
Welcome to the world of landing the clients your competitors want. Welcome to the world of being chosen for the speaking job, the magazine quote or the TV appearance. Welcome to the world of hustling your light.
Engage with Light Hustle Publishing
Learn more online at: https://lighthustlepublishing.com/
Press Releases from Light Hustle Publishing :