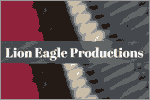 Lion Eagle Productions Newsroom - Profile and News Archive
Lion Eagle Productions is an independent record label based in Atlanta, GA and specializing in the adult contemporary, pop, rock, ambient, new age and soundtrack genres. Lion Eagle Music Publishing (BMI) is its affiliated music publishing company.
Lion Eagle was founded by former music licensing executives, with a special focus on creating music that could be used effectively in films and television programs.
All Lion Eagle recordings are available for film, television, video game, advertising, new media and compilation licensing. The catalog currently contains over 100 master recordings.
Lion Eagle recordings have been featured in numerous television shows (most notably 90210 and The Colbert Report), as well as independent films and commercials, for companies such as Warner Bros., the CW, CBS, Animal Planet, Comedy Central, Bravo, A&E, ID/Discovery, Nature's Variety and Discover Card.
Engage with Lion Eagle Productions
Learn more online at: https://www.lion-eagle.com/
Press Releases from Lion Eagle Productions :